"It seems inevitable that how people live and work will result in a profound transformation (of AI). Schools are responsible for this
ASPA (Australian Secondary Principals Association) supports the principle that AI should be used in schools to prepare children and young people to thrive in their future lives," the submission says.
The comments were echoed by Adrian Camm, principal of Westbourne Grammar, who said Australian Economic Review At the beginning of the week, that AI should be embraced in the classroom rather than feared.
Reducing work stress
The principal said AI and automation have the potential to reduce teachers' workloads, with examples of using generative AI to rewrite text to make it more accessible to different age groups, create question variations, and use tools that can quickly translate content for non-English speakers. Students talking.
Generative AI can also be effective in creating lesson plans that can integrate online content, while increasing the efficiency of marking and feedback for students, he said.
It's common sense thinking, but the worrying aspect for parents of today's students and their future employers is that we all stumble in trying to figure it out.
We're still working on how to use generative AI in the workplace, and if we're honest, many of Nifty's early use cases are effectively finding new ways to cut corners and get things done quickly.
Why is a team of junior lawyers wading through old cases to help build a new case, when AI can synthesize it all in a fraction of the time (and for a fraction of the cost?)?
False knowledge
But as every lazy person in the office knows, you have to understand the rules before breaking them. In academic terms, it seems that without thoughtful planning, we risk raising a generation of people who never understand the underlying subjects they are learning and are becoming adept at editing (often spurious) information at their prompts.
This translates into a workplace where those who already know the ropes may be more efficient, but a shrinking number of junior hires are doing AI-assisted impersonations of their older colleagues.
For example the first image in this article was created by a professional illustrator, while the second image was generated by your humble correspondent by typing a single line prompt into OpenAI's DALL.E 2.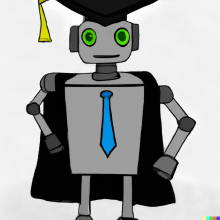 I guess mine can be considered "good enough", so am I a graphic designer now? Anyone who went to school with me and remembers me being sent to stand in the corridor between art classes will testify that I have no idea what skills AI is now allowing me to forge.
"The integration of AI tools in schools requires a positive continuation of the best practice shift towards more formative ongoing assessment and a focus on learning as a developmental process that happens over time rather than more traditional summative outcomes," the principals' submission said. Identifying whether anyone is actually learning anything regarding this emerging issue.
"AI will be able to help with summative assessment, although strategies need to be developed to overcome the risk of plagiarism. Teachers should be supported to adapt to these developments."
The NSW English Teachers Association also made a thoughtful submission to the inquiry, which takes a half-baked approach to suggesting that AI could be an impetus for updating the way we assess students, something we still call "shameful" around 19th-century technology. .
"In an environment that acknowledges the reality of AI, a better assessment would be to prioritize process over product," the submission said.
"A coherent national policy should be created that insists on students' use of AI as part of the creation process, as desired, and to document this process.
"In English, it has the potential to strengthen the skill of prompt generation but also the role of decision-making, creativity and critical thinking that still ensures the human role behind textual composition."
The challenge is to harness the power of AI to create a more knowledgeable humanity rather than easy answers and workplace productivity.